It's just you and the sea at these secluded resorts—and some of them are surprisingly affordable.
You're stranded on a deserted island. What three things do you wish for?
Correct answer: a private plunge pool, a butler, and a beach bar with excellent frozen drinks, preferably set on the deck of a sailboat.
Private island resorts are having a moment—and the timing couldn't be better. A globally tumultuous 2016 has exacerbated the travel trend of seeking remote corners and untouched places, of getting away from it all and feeling physically far away from all your worries. It doesn't matter what's keeping you up at night at home; you're likely to sleep easy when your biggest immediate concern is what drink will look best in your sunset Instagrams.
If a bit of escapism is exactly what the doctor has in store, consider these nine openings that are pushing the envelope of luxury, from the Maldives to Belize. The best part? Several will run you less than $500 per night.
                                        St. Regis Maldives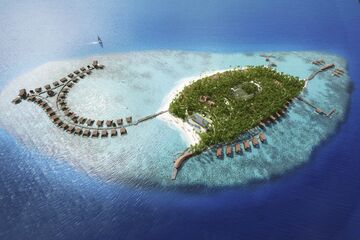 The St. Regis Maldives, from above. Source: St. Regis Hotels & Resorts